You want the best wedding photos possible – that's why you decided to hire a professional photographer to capture one of the most important days of your life! But no matter how experienced and talented your photographer is, there are things you can do to make your wedding photos come out better, no matter which photographer you decide to hire. Below is a list of tips to get the best wedding photos possible, from our perspective as wedding photographers.
If you are getting ready in a hotel, book the biggest room possible.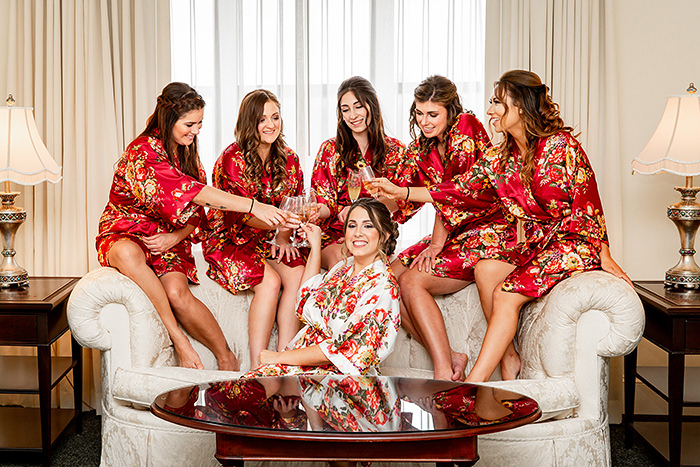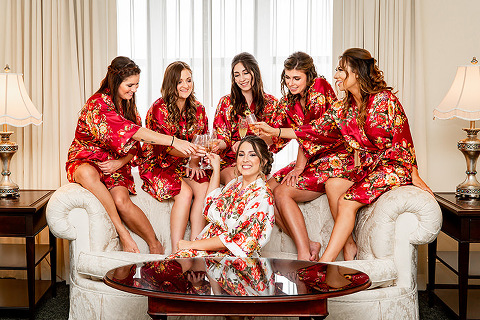 If you are getting your hair and make-up done and getting into your dress in a hotel room, do yourself a favor and don't book a small room – get a hotel suite if possible! Let's assume you have 5 bridesmaids, your mother and mother-to-be, a flower girl, your hair-stylist, and your make-up artist getting ready at the same location. Add in your photographer, and that's a minimum of ten people to fit into one room! A small hotel room can become cramped very quickly, especially when you factor in the gear, tools, and bags that the make-up artist, hair-stylist, and photographer will be bringing with them. Close-quarters in a cramped hotel room limits the ability for your photographer to move around and capture creative photos of you and your wedding party getting ready. Although the groom and groomsmen don't typically require as much space, we also recommend they get a large enough room as well. Make sure to have a neat and clean "getting ready" room, big enough for all your attendants. A large room with lots of light (preferably natural light) works best, and a few minutes of tidying up beforehand will yield better photos.
Have all the accessories ready to go!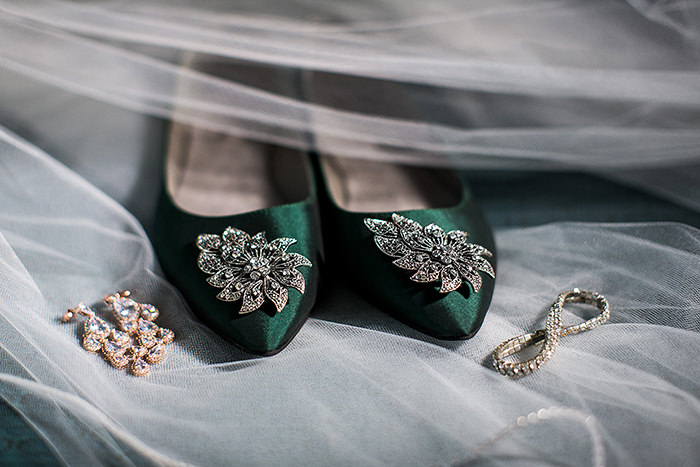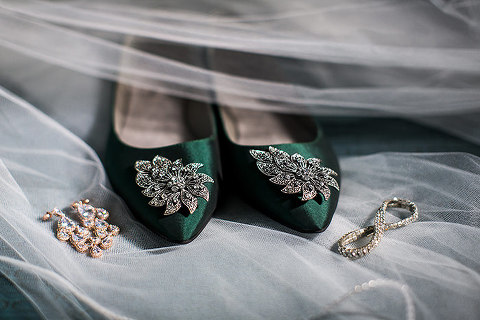 You will surely want great photos of all the little details that go into making your wedding day unique – the jewelry (including rings), shoes, dress, and other heirlooms. We highly recommend having all of these accessories in an easily accessible location and ready for your photographer to grab when they arrive to the getting-ready location, so that they can work their magic and create some artistic and creative photos of them.
Teach the groomsmen how to fold pocket squares and tie bow-ties.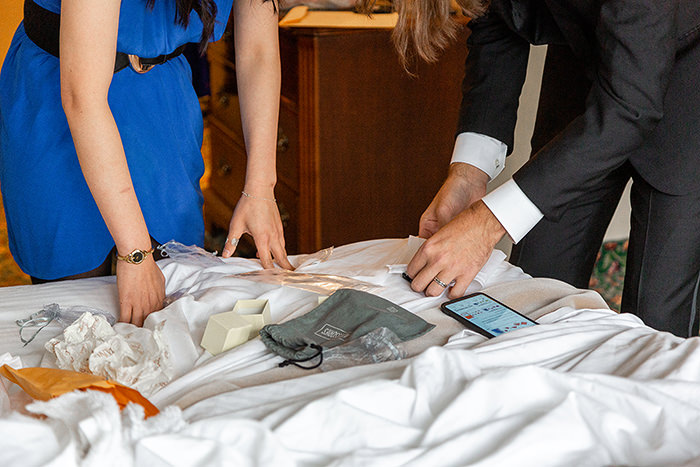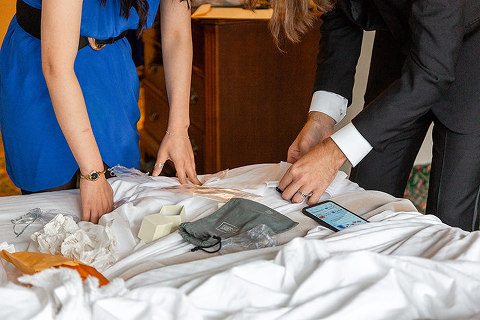 We see it at the vast majority of weddings; things are going smoothly during the preparations with the groomsmen – until it comes time to fold the pocket squares. Folding the pocket squares is an art in and of itself, but it doesn't help that there are multiple ways to fold and present the pocket squares in one's pocket. What typically happens at most weddings is that the groomsmen, all unaware on how to fold the pocket squares, designate one of their own to look up YouTube videos on how to fold them. Hours later after watching millions of videos (a slight exaggeration), the pocket squares are finally done being folded and inserted into the pockets. While this sometimes makes for some funny photos, it really holds the show up. We recommend sending a YouTube video to one of the groomsmen at least a few weeks before the wedding, so that he can practice and master the art of folding the pocket square in the exact design and pattern you desire, and be ready for game day. This advice also applies to tying bow-ties and installing cuff-links.
Don't worry about getting your dress a little dirty.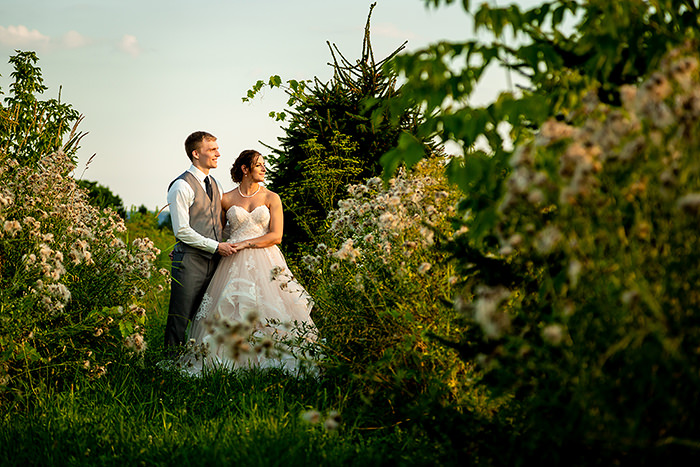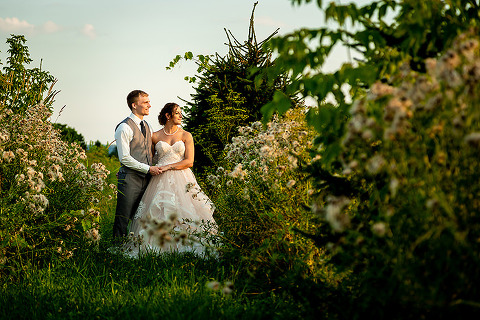 Sometimes the best wedding portraits are taken off of the beaten path! While our goal as photographers is not to have you roll around in the mud in your wedding attire (although that can make for some pretty amazing photos in a "trash-the-dress" photo session), sometimes it's best to be a little adventurous unless your dress is indeed a family heirloom. Not only do your options for scenery open-up when you aren't afraid to get your dress a little bit dirty, but your options for creativity in posing expand as well. Sometimes the best wedding portraits are taken with you sitting down!
Coach your wedding party and family to look up and smile!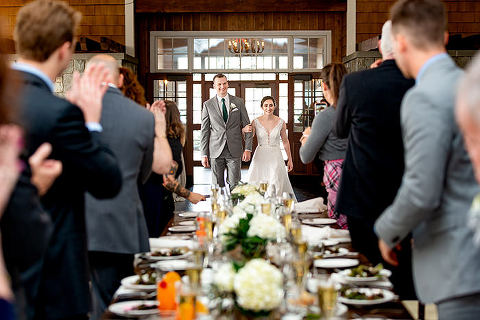 Although your wedding photographer might perfectly compose a shot of your bridesmaids and groomsmen walking down the wedding aisle, these photos sometimes do not come out as you envisioned because of your bridal party unknowingly looking down at the ground as they are walking; or perhaps they are so nervous being the center of attention that they might not have the best smile on their face. Coach your wedding party and family to look up and smile as they are walking down the aisle during the wedding ceremony, or making their way into the reception hall for introductions. You will be happy with your wedding photos if they look happy! Be sure to coach them about this at least a few times in the weeks leading up to the wedding day, and if possible on the wedding day itself, as they might forget about this during all the wedding day excitement. And don't forget as the bride and groom, it's important for you to look up and smile too!
And make sure they actively pay attention…
Another issue we sometimes catch the wedding party and family doing, is not paying attention to all the exciting happenings of the day. Perhaps the best man is staring off into space while you and your spouse-to-be are exchanging vows, thinking about how much fun he is going to have later at your reception; or maybe your dad loves to talk and is talking with an old classmate he hasn't seen in years while you and your spouse are having your first dance. They might not realize it, but they will be in the background of your wedding photos. As wedding photographers trying to tell the story of the day, we much prefer it if your wedding party is focused on the action that is happening, and you will prefer it too! Be sure to coach them about this in the days leading up to the wedding.
Invest in up-lighting for indoor receptions.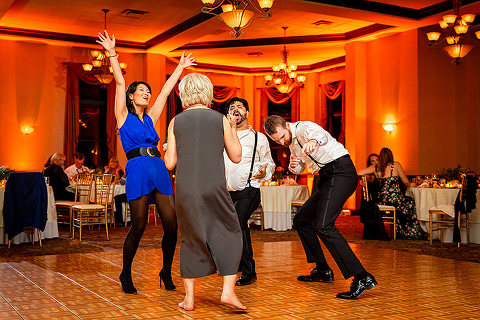 Having your wedding reception indoors? We highly recommend up-lighting! Having bright colors in the background of your reception photos really make them pop, and can bring excitement to an indoor ball-room setting that your guests will love and talk about. As photographers, we love capturing photos of the fun and excitement on the dance floor, and a colorful background makes the photos even more fun and exciting. Reception up-lighting services are usually provided by DJs or Bands. If your DJ or Band does not provide up-lighting as a service, you may be able to find another DJ that will provide up-lighting only for your wedding event. If you are getting married in Upstate NY, we have a list of DJs we highly recommend for their exceptional up-lighting abilities. Sometimes, wedding venues will include up-lighting as well, so be sure to ask!
Plan around sunset time.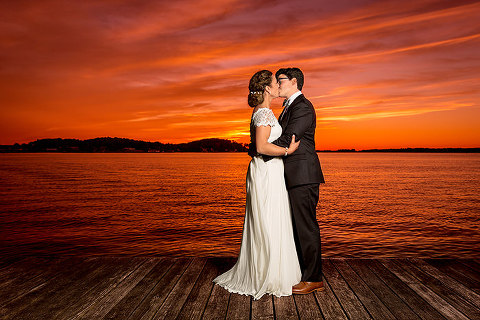 Often, the most sought-after wedding portraits of the bride and groom are those taken at sunset time. However, with the flow of a typical wedding day, sunset time is often during important reception events, such as the first dances; or even while dinner is being served! If you desire sunset photos, you have to plan for sunset photos. Make sure your DJ or Band knows that sunset photos are important to you, and to not schedule any events between the 15 minutes leading up to sunset, and the 15 minutes after sunset. Make sure your reception venue or caterer is also not serving dinner at this time.
Here at Solas Studios, we know that sunset photos are important, and we will help you plan your schedule around sunset time; but if for some reason the schedule does not work out with your DJ, we will be sure to grab your attention wherever you are and let you know sunset is happening soon. It's important to remember that it's impossible to capture great sunset photos if there is no great sunset – and sometimes mother nature does not cooperate. But we feel that it's better to plan for a great sunset and be let down, than to not try at all. And even if the sunset isn't quite as breathtaking as we hoped for, we hear frequently from our couples that they enjoyed getting outside of the reception hall for a few minutes to get a breath of fresh air.
All photos in this article are Copyright © Solas Studios, LLC. Use without permission is forbidden.
If you've found any of these tips helpful, please share them with others!
Follow