Today marks a pretty special day for us; we're celebrating the tenth birthday of Solas Studios!
Some of you may have heard our fun little story, but for those of you who haven't, we're happy to tell it again!
How we met:
Greg and Colleen were students at Onondaga Community College working on a degree in photography. We each had different goals, and interests in photography – Greg enjoyed landscape photography and Colleen enjoyed portraiture. Greg was all about the color, and Colleen was really infatuated with black and white. Our classwork always yielded completely different results, and somewhere along the way we developed an admiration for the other's work probably BECAUSE it was so different from our own.
Greg was a pretty quiet guy, and being the chatty person that I am, it only made sense to find out more about the talented quiet guy that took such great landscape photos. He was always around the lab working when I was, and very often it was just the two of us there by ourselves. We struck up conversation about how we found a love for photography, and found out we had a lot in common.
From there we began discussing our ideas for upcoming assignments. I won't lie, our friendship allowed us to block off extra time in the studio so we could take all the time we needed to work on some of our projects. It just so happened that wherever one of us struggled, the other was sure to be strong, so it worked out to be a perfect collaboration.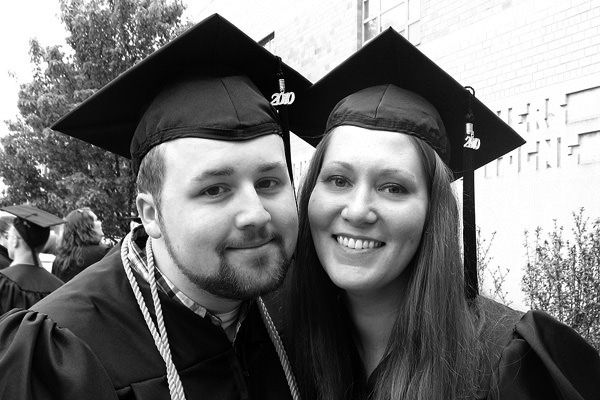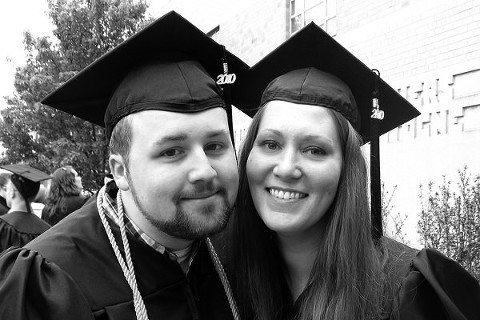 Our first wedding experience together:
When it came time for me to photograph my first all-digital wedding, it only made sense to ask Greg if he'd like to second shoot with me. We'd each photographed weddings on our own, but didn't really have any intention of making a career out of it. Having a polar opposite partner to shoot with turned out to be pretty helpful though. After photographing just one wedding together, it changed everything.
Within a few days, Greg had begun our business plan, came up with our business name, and even designed a logo for us. He was all in!
It took a bit of convincing, but he was pretty persuasive (he usually is). Back then, we decided that we were only going to be wedding photographers for a couple of years. Maybe we'd do it for three, or five, or seven years, but never ten. On February 10th, 2010 we joined forces as Solas Studios!
Solas Studios Clients:
We've attracted all kinds of clients from all over the place, and every one of them have been so uniquely different! It's been such a joy over the past decade to have met so many people we wouldn't have met otherwise. In the beginning, we thought it would be really hard to find work, but much to our surprise, we had some really awesome people willing to let us document their weddings, engagements and families. And so many of them were happy to pass our name on to other people, too! We were just a couple of photographers that wanted to have fun making pictures.
Wedding photographers get married too:
Three years after we began Solas Studios, WE got married. Because despite having so many differences, they're really all kinda the same. Greg pretty much planned out how we would get married too – right in the studio where we spent so much time together working on our photo assignments. February 14th, 2009 was the day we had our first real in-depth conversation about wedding photography. So we decided to celebrate that day by getting married on Valentine's Day, 2013. Our small, but sweet ceremony was as colorful and quirky as we are – full of our favorite things.
Ten years later…
We're still the same goofy two-some, but we've learned so much in ten years! We have learned a lot about our craft. We've learned a lot about weddings. We've learned a lot about people and their families, and we've also learned a LOT about each other! Knowing when and just how far to push your spouse outside their comfort zone can be quite a learning experience. And let's just say there have been a plethora of opportunities for that!
But one thing that's remained true, is that we do really enjoy working with each other. Each wedding, engagement, family, or senior session, and every event have left us with memories we'll never forget. Each client has left us with an experience that has enriched our lives in some way. And that's something we can never adequately express enough gratitude for.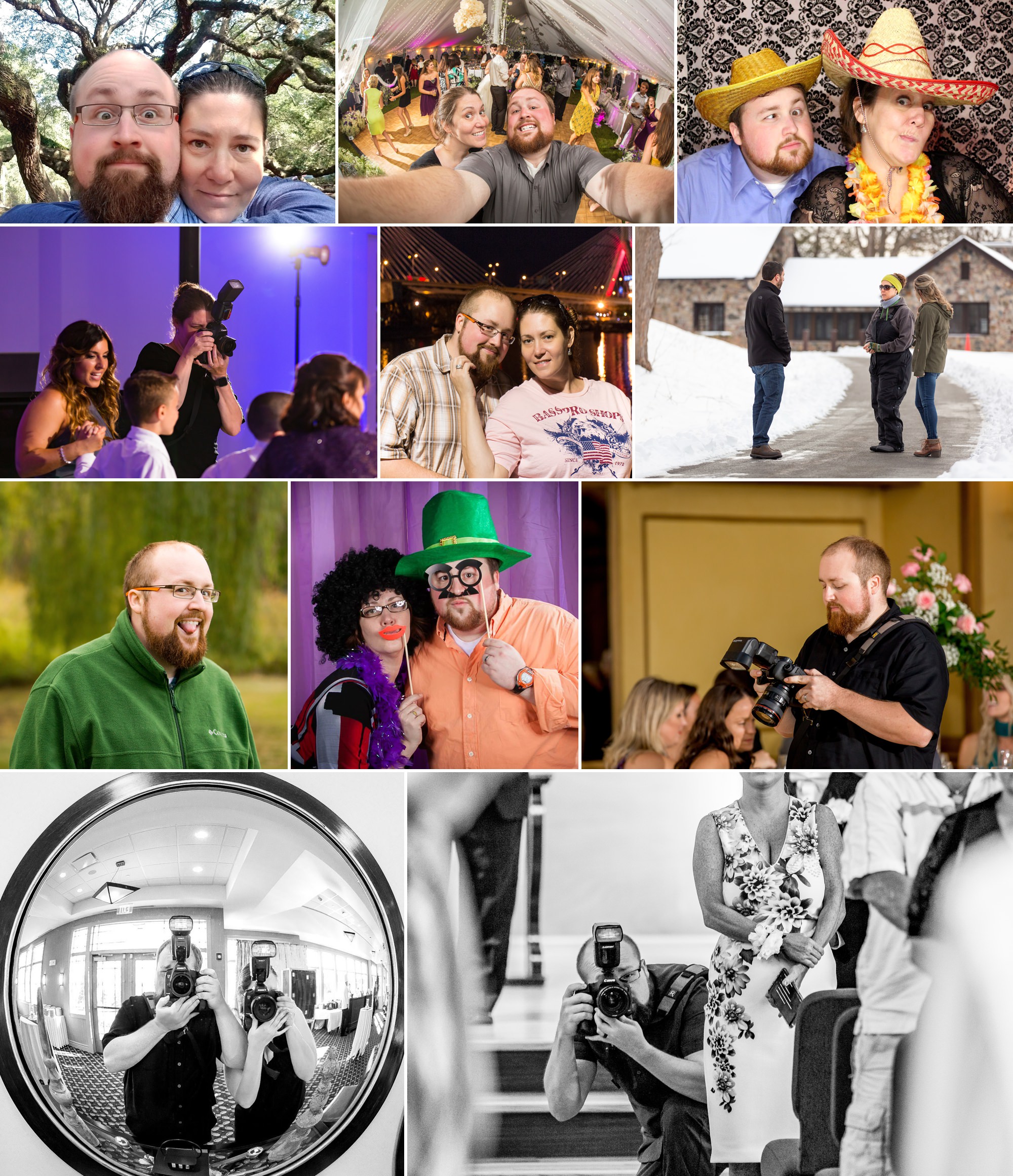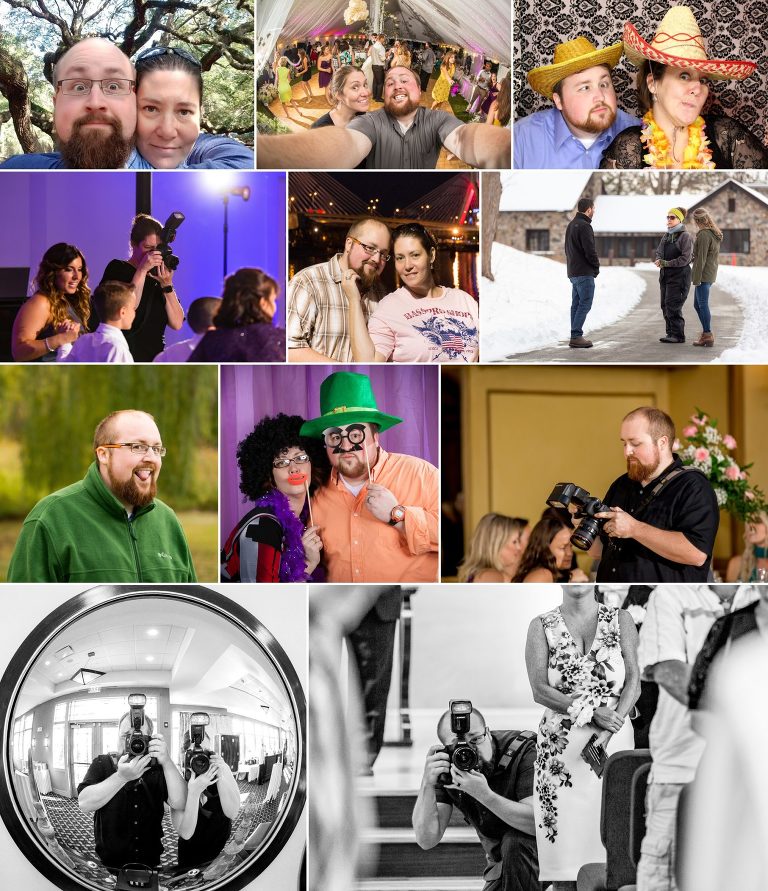 The next ten years:
You never quite know what opportunities, challenges or prosperity life will bring you, and so we can only take each day as it comes. Will we still be photographers in ten more years? There's a pretty good chance of that! I think we're of the mindset that once you're a photographer, you'll always be a photographer. Will we still photograph weddings, or families, or will we simply take really nice portraits of our cat? That all remains to be seen. If we continue to get such awesome clients who want to work with us, we may not be able to retire!
Thank you…
For those of you who have followed us the entire ten years, we really owe you the biggest thanks! You seen us through a few logos, a lot of website changes, and hundreds and hundreds of posts and blogs. If you're still hanging around to see what we're up to, that means SO MUCH to us! For those of you who haven't quite been around since the beginning, we really appreciate you too! Your support and loves, likes, follows, shares and comments do not go unnoticed! It does keep us inspired to keep making pretty pictures to share! And for anyone who may have accidentally stumbled upon this post, we invite you to tag along too. Who knows? You might just be the next person who make a stunning portrait with!
With all of that said, we'd like to celebrate this very Happy 10th Birthday by looking forward to the exciting years ahead!
Le gach dea-ghuí,
(With all good wishes)
Colleen & Greg
Follow